Bangladesh puts energy hopes in first nuclear power plant, despite delay
Daily power outages over the summer due to fuel shortages, worsened by Russia's invasion of Ukraine, show the need for the Rooppur Nuclear Power Plant, some experts say, but others question the cost and safety of the project
By Md. Tahmid Zami / Thomson Reuters Foundation, ROOPPUR, Bangladesh
Bangladeshi engineering student Noyon Ali, 22, serves ice cream and fruit juice at a stall on a hot, dusty roadside to Russian customers, using a menu translated with an online app.
He moved across the Padma River to Rooppur to benefit from the arrival of Russians working on the construction of Bangladesh's first nuclear power plant in the north-central town nicknamed "Russpur" (the Russian town) by locals.
"Many restaurants, beauty parlors and commercial establishments have sprouted in this place to cater to the influx of Russians, as well as people from various parts of Bangladesh working on the nuclear power project," Ali said.
Photo: AP
The Rooppur Nuclear Power Plant, with a planned power generation capacity of 2,400 megawatts (MW), is to add Bangladesh to the list of more than 30 nations that have operating reactors.
Since the summer, Bangladesh has grappled with power cuts amid spiking fuel prices around the world — and nuclear energy is seen by some experts as a potential way out.
Ijaz Hossain, professor and dean of engineering at the Bangladesh University of Engineering and Technology in Dhaka, said the nuclear plant could help ease the country's power problems and increase its use of low-carbon energy.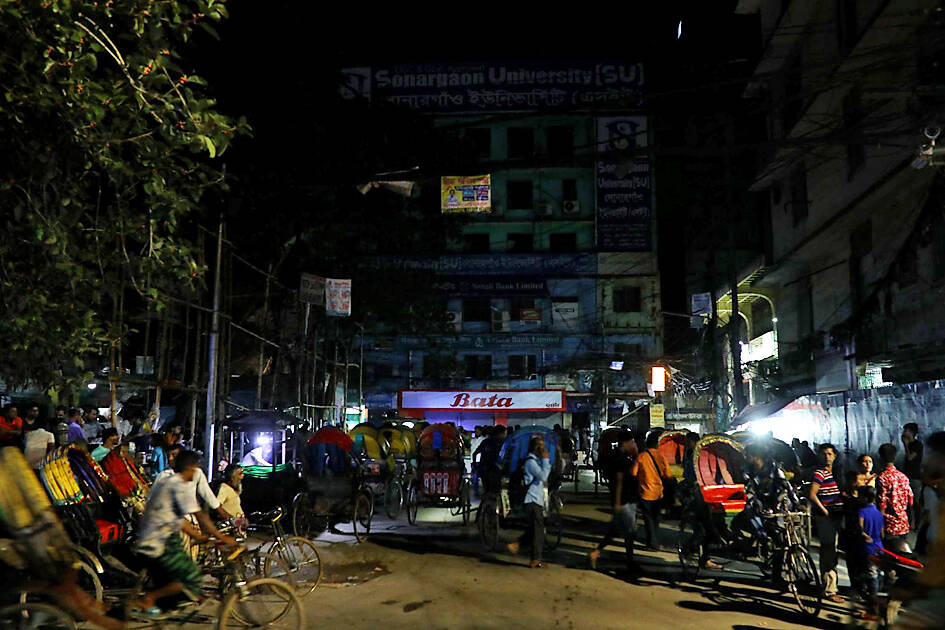 Photo: Bloomberg
However, construction delays, cost concerns and public fears about nuclear safety are clouding the outlook for the new plant.
Bangladesh's power generation capacity exceeds demand — but the fuel needed to run existing plants partly relies on imports, including one-quarter of natural gas used, with prices rocketing this year after Russia's invasion of Ukraine.
The South Asian nation experienced daily power outages in the summer last year due to gas supply shortages, which have eased as winter set in and demand for cooling dropped off, especially in Dhaka.
Yet fuel and electricity prices are set to rise as the government is considering removing subsidies to cut costs.
Hossain said that nuclear power could not only boost Bangladesh's energy security, but also help meet its commitments under the Paris Agreement to curb climate-heating emissions by reducing fossil fuel use.
In the coming years, Bangladesh plans to rely less on natural gas — which accounts for about half of power production — although it is ramping up coal-fired power in the short term to fill the gap.
Last year, the power ministry announced an ambitious goal to source 40 percent of the nation's electricity from renewables — including solar, wind and hydropower — by 2041.
So far, renewables account for only about 950MW out of total power capacity of 25,700MW.
Treating nuclear as a renewable or green energy source remains controversial worldwide, as the spent fuel left after power production is not fully recyclable and nuclear waste is hazardous.
Nuclear dropped to below 10 percent of global power generation in 2021, although the recent energy crisis driven by Russia's invasion of Ukraine has seen some reawakening of interest.
The goal of developing a nuclear power plant in Bangladesh dates back to the 1960s, but plans adopted by successive governments over the decades were not implemented due to a lack of funding and skilled engineers.
In 2011, an agreement was made with Russia to build a nuclear plant, and in 2017 construction finally began at Rooppur, 140km west of Dhaka, on two nuclear power units capable of generating 1,200MW each.
The plant is being built by Rosatom, Russia's state-owned nuclear energy corporation, using Russian technology, with 90 percent of the project financed by a Russian loan worth US$11.38 billion that is to be repaid over two decades starting from 2027.
Construction work is progressing at full speed, said Alexey Deriy, vice president for the Rooppur nuclear power plant project managed by JSC Atomstroyexport, a Russian engineering company belonging to Rosatom.
In October last year, Bangladeshi Prime Minister Sheikh Hasina inaugurated the installation of the Russian-made container that would house the reactor for the plant's second unit.
The government has made clear that completion of the power plant — which was originally scheduled to start operating in last year or this year — would be delayed, meaning it might not be able to help alleviate power shortages in the near term.
Ministers and project officials last month said that construction of transmission infrastructure for the plan was taking longer than planned due to the COVID-19 pandemic and problems with procuring parts for its substation.
They now expect the plant to start supplying power by the middle of next year, instead of late this year, local media reported.
Government officials, including the Rooppur project director, did not respond to requests for comment.
Meanwhile, a Russian ship carrying materials for the nuclear plant was blocked from entering a Bangladeshi port last month after the US said the vessel was under sanctions in response to Russia's invasion of Ukraine.
Deriy said that Atomstroyexport is "making every effort" to ensure the Rooppur site is ready for delivery of the first batch of nuclear fuel this year, adding that the electricity supply "depends on many factors and not all of them are within our control."
Due to the late start and confidential nature of the project's financial information, the affordability of power from the new nuclear plant is unclear, experts said.
Deriy said the upfront costs of building a nuclear plant are high but the power will be cheaper across its 60-year lifespan and more reliable than renewables, because it will generate power 24/7 and less will be wasted than with solar or wind.
Md. Shafiqul Islam, a visiting nuclear science professor at the Massachusetts Institute of Technology, said that in the absence of official estimates, his calculations suggested that nuclear power from the Rooppur plan would be commercially competitive compared to using imported fossil fuels and renewable sources.
However, transmission costs and delays in implementation might make the project more expensive than forecast, he added.
Research from Denmark's Aarhus University showed in 2014 that cost overruns had affected more than 97 percent of nuclear power projects around the world since the 1950s.
Many Rooppur residents think that work on the nuclear plant would drag on beyond the initial timeline.
Masud Rana, 45, who cooks Russian dishes at a small roadside eatery, said the construction could take a couple more years.
"That is not bad, since many local people are making a living out of the opportunities arising from this project," he added.
Rickshaw puller Saidul Islam, 50, is happy his son got a job working on the construction of the plant.
"The income it generates has helped my family fare better," he said.
Rana said local people need to acquire skills and expertise quickly so they can work at the nuclear plant once it starts operating and do not depend on Russians in the years to come.
Deriy said that since 2018, more than 660 Bangladeshi specialists have been trained by Rosatom to work on the project, and about 1,120 operational personnel and 305 reserve personnel would receive training.
Some experts and members of the public are worried about safety, following the 1986 Chernobyl disaster in Ukraine and Japan's 2011 Fukushima Dai-ichi nuclear power plant crisis.
"I do not want to imagine what could happen in the unlikely event of an accident," said Md. Milon, a 30-year-old waiter in a restaurant across from the Rooppur nuclear plant.
Bangladesh's capacity to manage a large nuclear disaster is limited, Hossain said.
However, Md. Shafiqul Islam said there was little risk of a crisis like Fukushima because the third generation of reactors being used at Rooppur can contain a nuclear meltdown.
They have several protective layers that should prevent radioactivity being released into the environment, he said.
Deriy said that the improved technical and economic characteristics of the reactors provide "absolute operational safety and fully comply with post-Fukushima safety standards of the International Atomic Energy Agency."
Bangladesh's vulnerability to the effects of climate change is another consideration, as the plant is located in a zone that is prone to extreme weather events such as flooding.
Md. Shafiqul Islam — also a professor at the University of Dhaka — said that no public information was available on if and how the design of the nuclear plant accounts for climate-related risks.
Even before Rooppur is up and running, the government is mulling the possibility of building a second nuclear plant, with countries like South Korea and China signaling their interest in helping to construct it.
Md. Shafiqul Islam said the government should not rush into another large-scale project, adding that it would be better to learn from the experience of operating the first plant for several years.
"We should also wait for the upcoming, next-generation nuclear technologies that are safer, domestically fundable and manageable," he said.
Comments will be moderated. Keep comments relevant to the article. Remarks containing abusive and obscene language, personal attacks of any kind or promotion will be removed and the user banned. Final decision will be at the discretion of the Taipei Times.