StratCom chief sounds off on Chinese, Russian nuclear threats | Omaha State and Regional News
Not since the days of "Dr. Strangelove" has the commander occupying Adm. Charles Richard's Offutt Air Force Base headquarters faced so many fast-rising threats to the United States and its nuclear umbrella.
Russia has launched the largest country war in Europe in 80 years while engaging in what Richard calls "not-so-thinly veiled nuclear saber-rattling." China is building desert silos for up to hundreds of ballistic missiles. North Korea has tested rockets with the range to hit the US mainland with nuclear weapons. Iran is free from an international agreement that constrained it from developing its own bomb.
Against the backdrop of these threats, Richard, the commander of the US Strategic Command, brought some of the West's top nuclear policy experts to Nebraska this week for the two-day Deterrence Symposium in La Vista.
"We just haven't had stress on strategic deterrence in the last 30 years that has compared with what we have today," Richard said during a press briefing Wednesday afternoon. "The strength of our nuclear deterrent is what underpins and backstops every other thing we do inside the Department of Defense to defend our nation."
People are also reading…
The symposium has been held annually since 2009, though the last two were held virtually because of the COVID-19 pandemic.
Often the conference focuses on the military and academic theory governing the nuclear balance of power that kept the US and Russia from destroying each other during the Cold War and in the years after.
This year, though, sessions focused on concrete topics like China's strategic breakout and Russia's invasion of Ukraine. One panel looked at how to deter two nuclear-armed peer competitors at once — a threat that seemed distant as recently as two years ago.
"China's strategic breakout is not just a talking point anymore," said Christopher Yeaw, a top nuclear strategist at the National Strategic Research Institute, a StratCom-funded think tank at the University of Nebraska.
Currently the US and Russia remain well ahead of China, but analysts have warned that China — which, unlike the US and Russia, is not part of any arms control agreements — could catch up in a decade or so.
Several panelists warned of the consequences of a three-way nuclear duel among the powers.
"We don't have the luxury of just deterring one near-peer nuclear power at a time," said Patty-Jane Geller, a nuclear deterrence and missile defense analyst at the Conservative Heritage Foundation. "We need to be able to absorb a first strike, and then retaliate."
Paige Cone, an assistant professor at the School of Advanced Air and Space Studies in Montgomery, Alabama, warned of "opportunistic aggression." For example: if China tried to seize Taiwan while the US and NATO are focused on Russia and Ukraine.
It also provides the opportunity for two to ally themselves against the third. At least for now, it appears the US is most likely to be the odd man out.
"(Russia and China) both view the United States as a singular threat," Cone said.
Keir Lieber, director of the security studies program at Georgetown University's School of Foreign Service, described arms control talks as "dead, or at least in a coma."
He supports the US development of lower-yield nuclear weapons such as the proposed submarine-launched cruise missile, which would help to offset what he sees as a growing US disadvantage in Asia compared with China and North Korea.
And he warned that the US employed a "ham-fisted" Ukraine policy in recent years that needlessly antagonized the Russians.
"We should be playing kissy-face with the Russians right now, to prevent them from siding with China in the coming conflict," he said, exaggerating for effect.
All of these are factoring into Richard's strident calls for the US to keep modernizing its out-of-date nuclear arsenal, though he stopped short of requesting more weapons beyond those called for in the still-unreleased 2022 Nuclear Posture Review.
He singled out Russia specifically for rhetoric "that is irresponsible, that is unhelpful, that is unnecessary" — unseen, he added, even during the depths of the Cold War.
"What previously in some cases had been thought to be a theoretical or highly improbable threat," Richard said, "has now turned out to be real."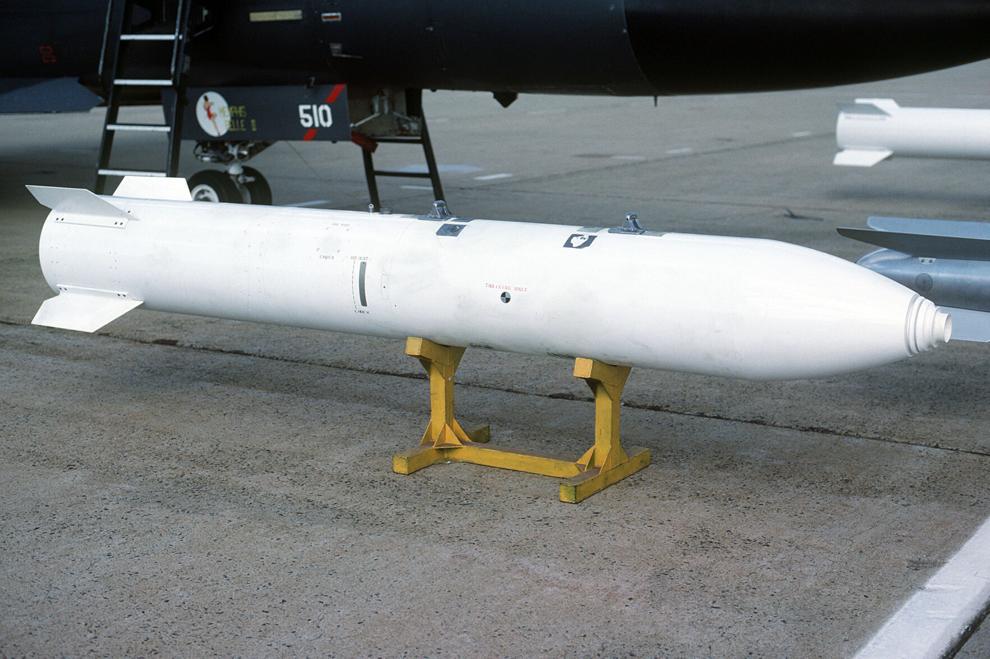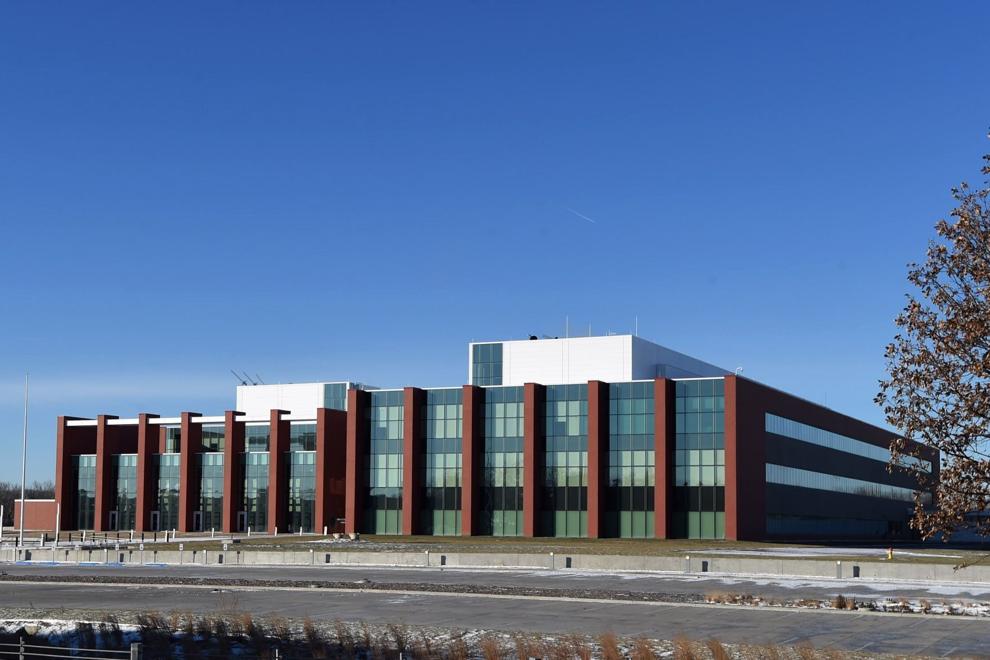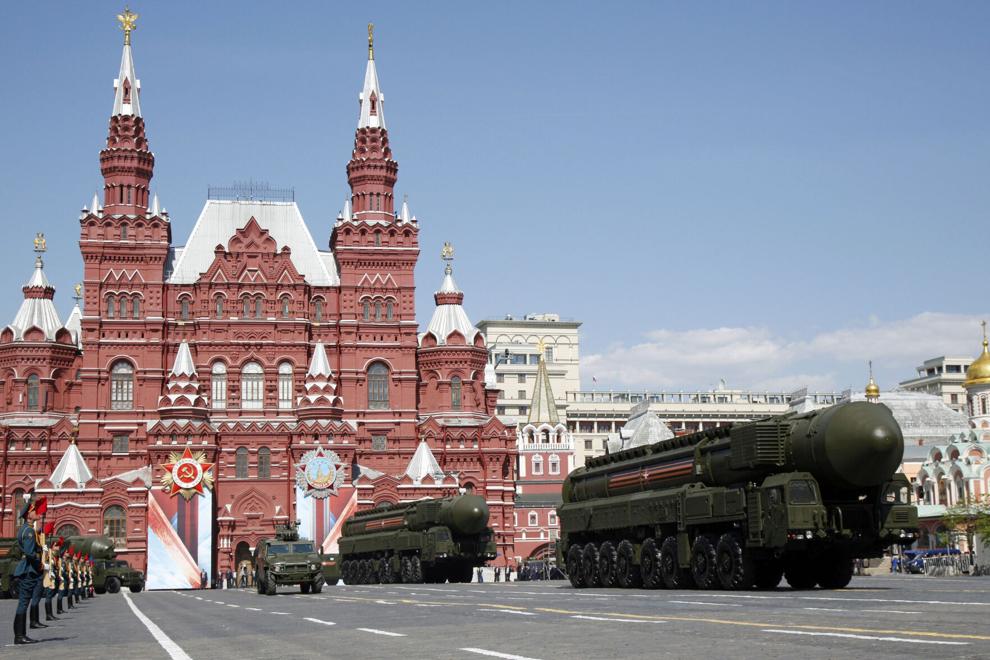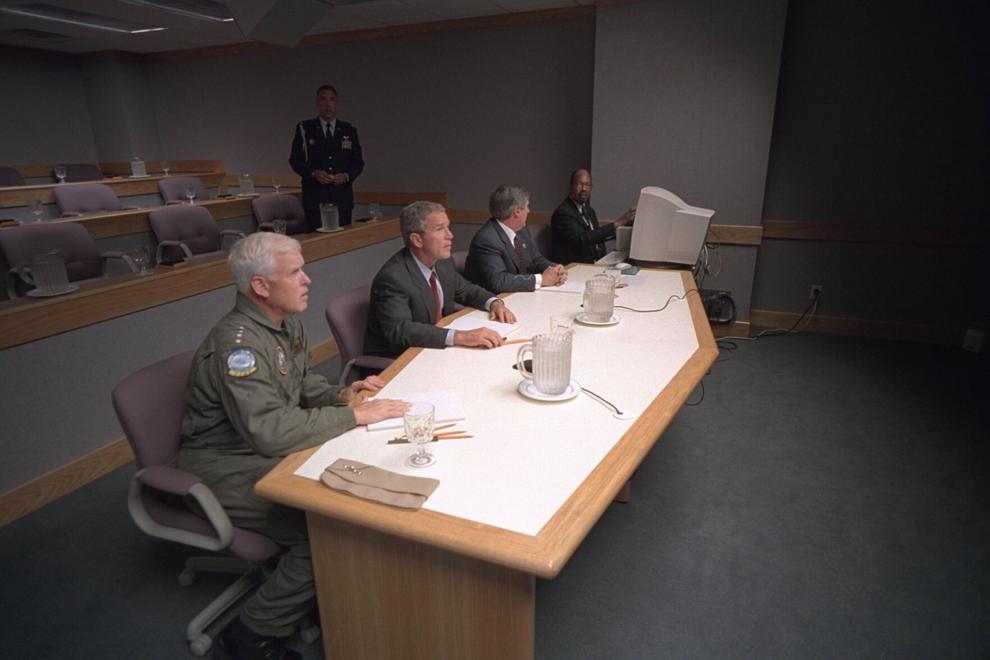 Photos: Offutt Air Force Base through the years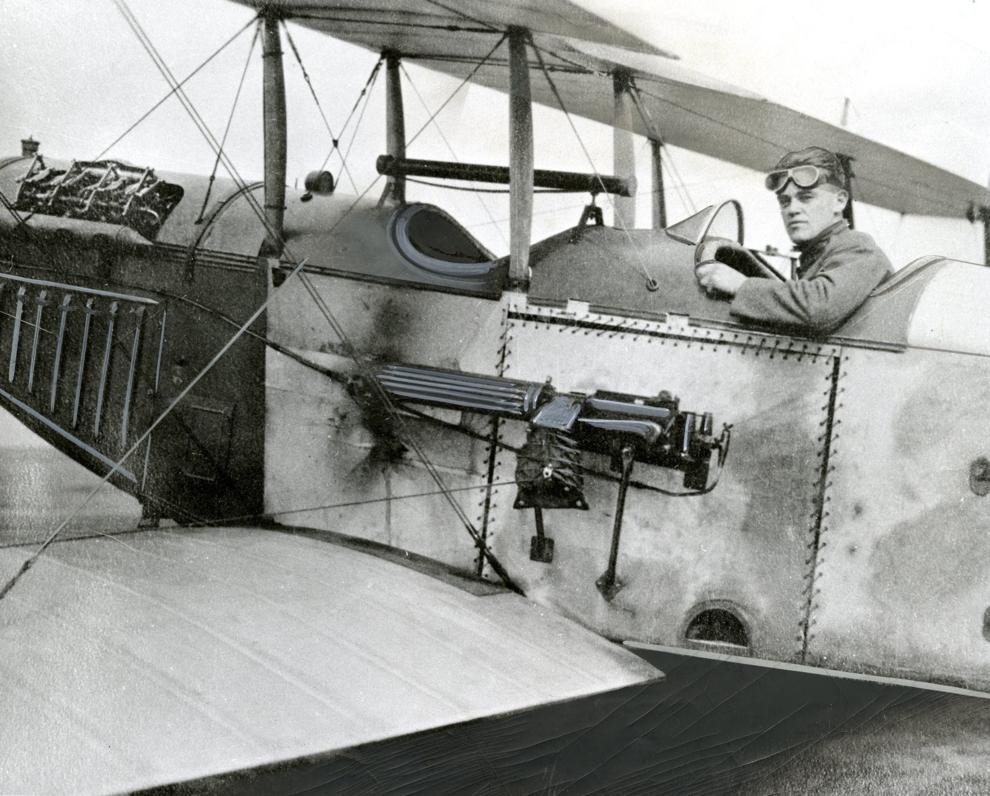 THE WORLD HERALD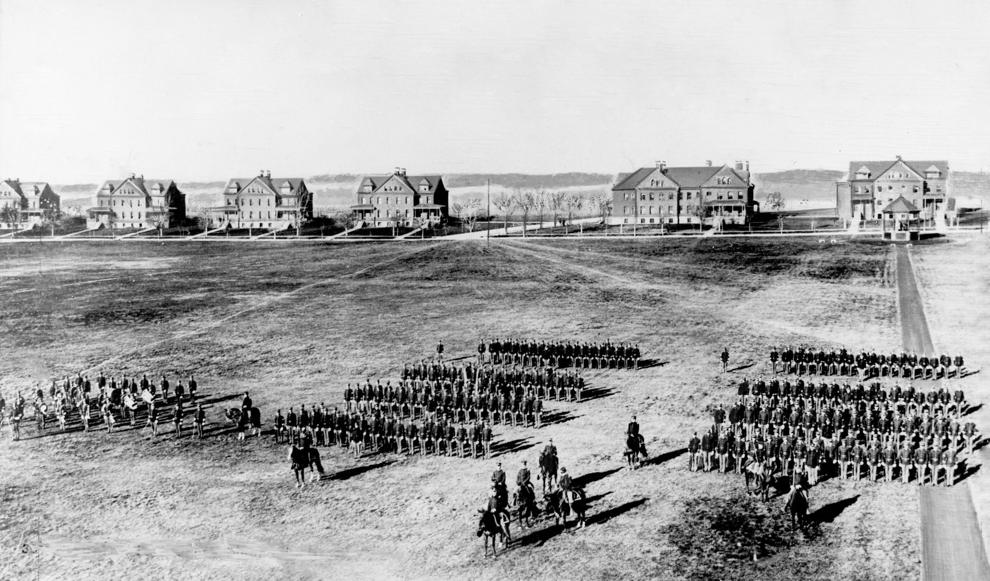 The area now known as Offutt Air Force Base was first commissioned as Fort Crook, an Army post to house cavalry soldiers and their horses. This photograph, circa 1905, shows mounted officers and infantry troops assembling on the parade ground. The officers' quarters in the background still stood today, but the closing of Offutt's stables in 2010 ended the base's equine tradition.
THE WORLD HERALD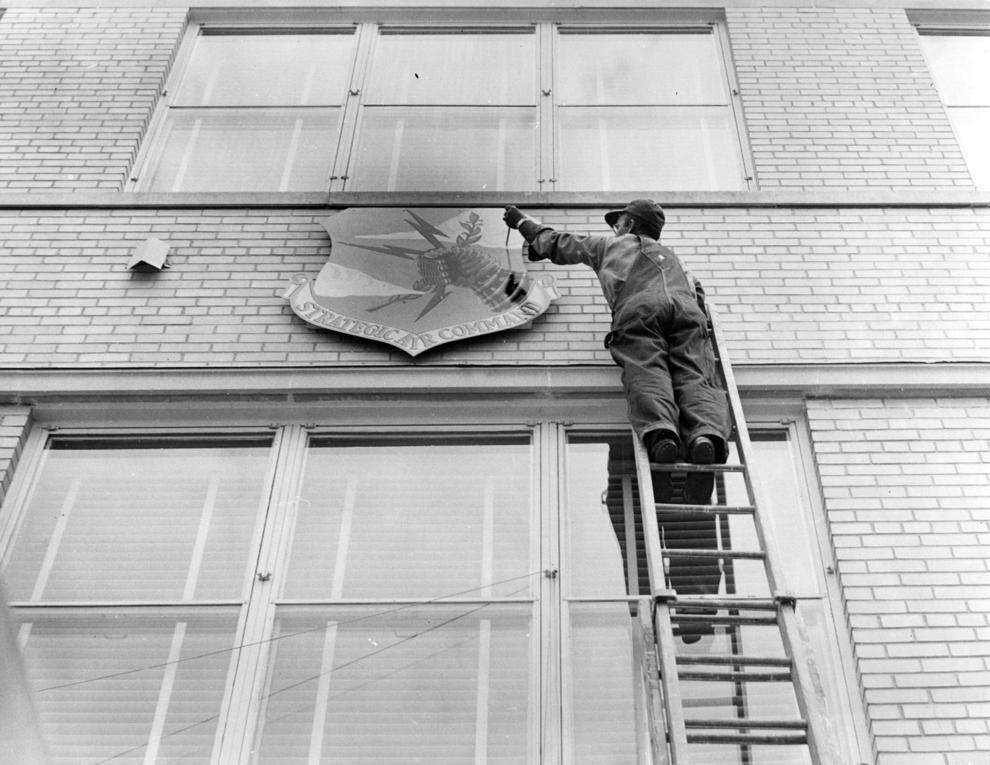 Painter Frank Anania places the final bolt in the SAC emblem, newly placed on the command building at Strategic Air Command headquarters. After the command was created in 1946, SAC headquarters were moved from Andrews Field, Maryland, to Offutt Air Force Base. SAC's high-flying reconnaissance planes and bombers would go on to play a global role from the onset of the Cold War through the last bomb of the Persian Gulf War.
THE WORLD HERALD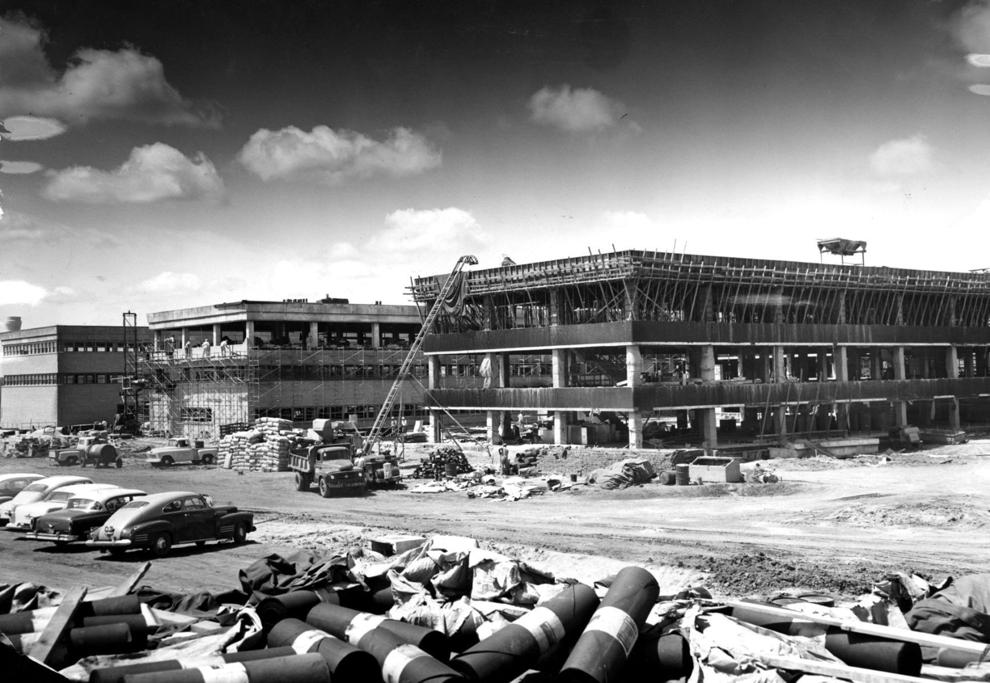 The Strategic Air Command "nerve center" gets a new headquarters building at Offutt Air Force Base.
THE WORLD HERALD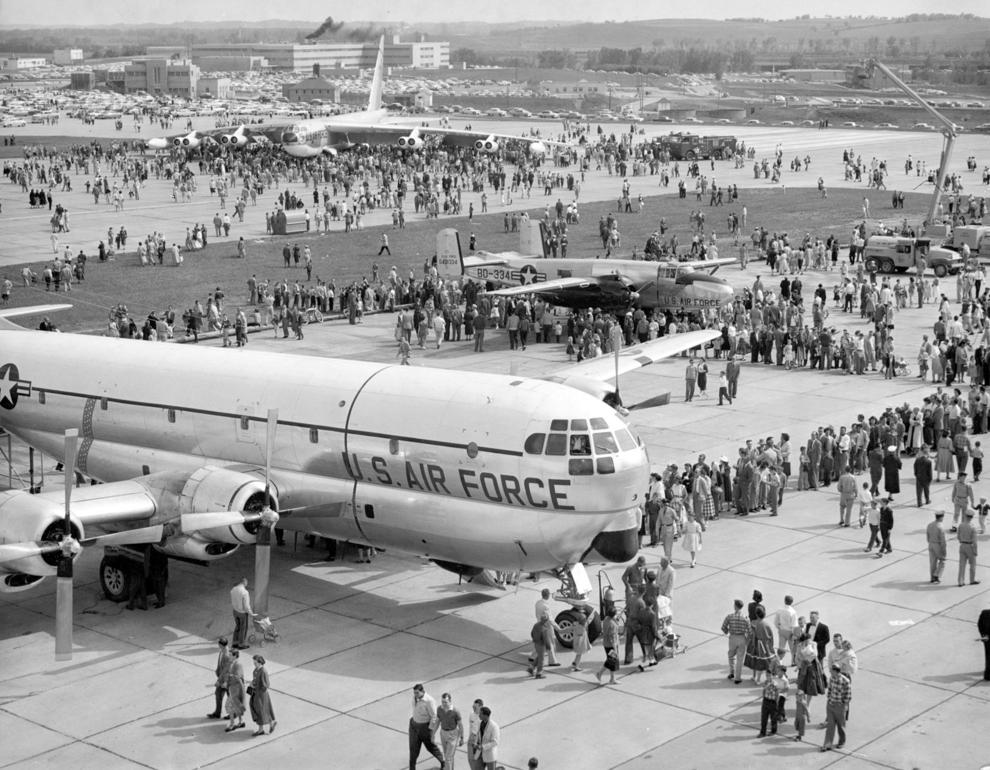 Even since the late 1950s, Strategic Air Command has been holding open house events at Offutt Air Force Base to display and demonstrate aircraft for civilian visitors. Each year, the open house and air show at Offutt features aerial acts or reenactments, static displays, and booths showcasing military history and capabilities.
KEN ZIMMERMAN/OMAHA WORLD-HERALD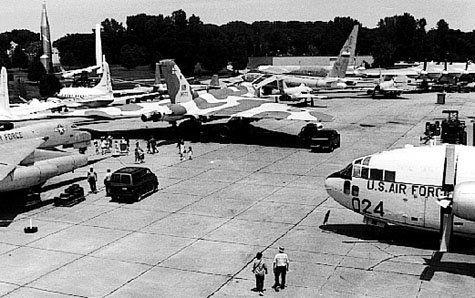 The first SAC museum consisted of a section of abandoned runway near the north edge of Offutt Air Force Base outside of Bellevue. However, the outdoor display left the aircraft vulnerable to the elements.
OMAHA WORLD HERALD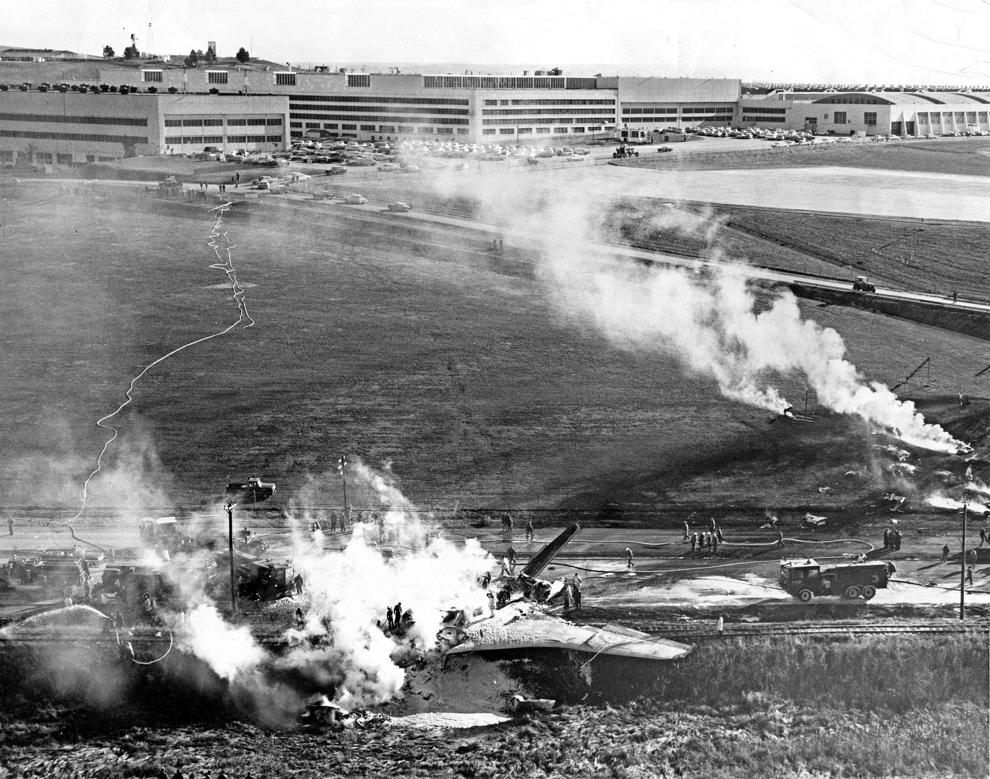 A Royal Air Force bomber crashes at Offutt Air Force Base. Beginning in the late 1950s, the RAF maintained small detachment and service facility for Vulcan bomber planes at Offutt, often participating in defense exercises and demonstrations at the base until their retirement and deactivation in 1982. This plane crashed at take-off at the northwest end of the main runway and then slide across Highway 73-75. All seven passengers survived.
OMAHA WORLD HERALD


Just weeks after the Cuban missile crisis, President John F. Kennedy visits Offutt Air Force Base, accompanied by Gen. Thomas Power of Strategic Air Command, right.
JOHN SAVAGE/OMAHA WORLD-HERALD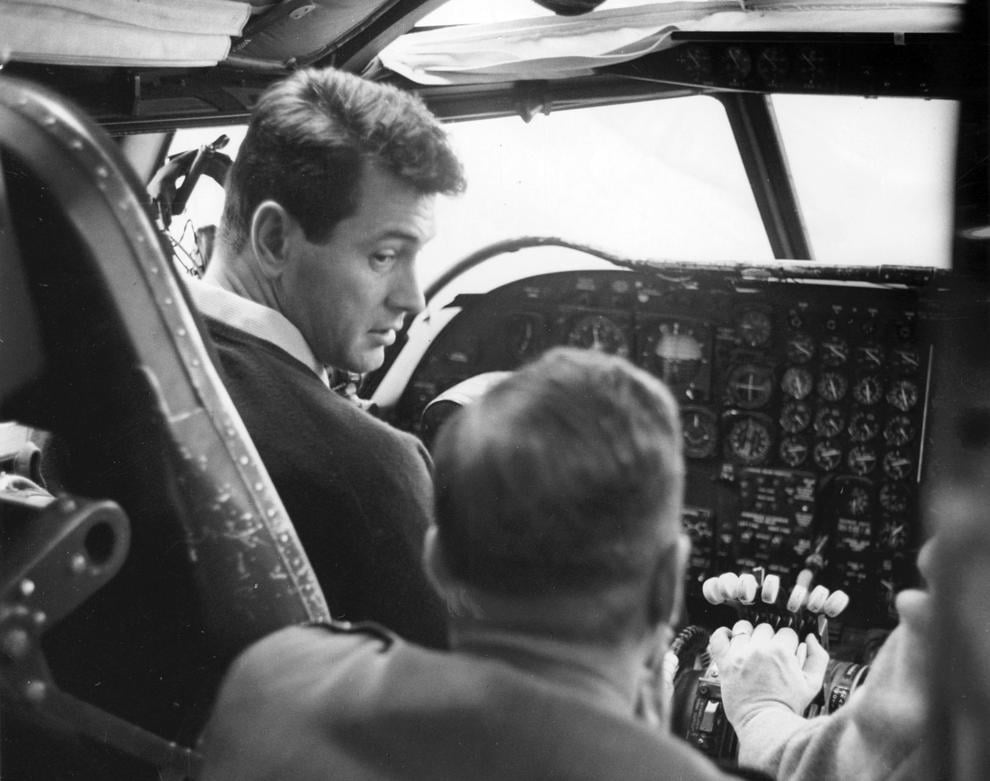 Actor Rock Hudson receives a B-52 bomber briefing during a visit to Omaha and Offutt Air Force Base. He began filming "A Gathering of Eagles" in May of that year.
US AIR FORCE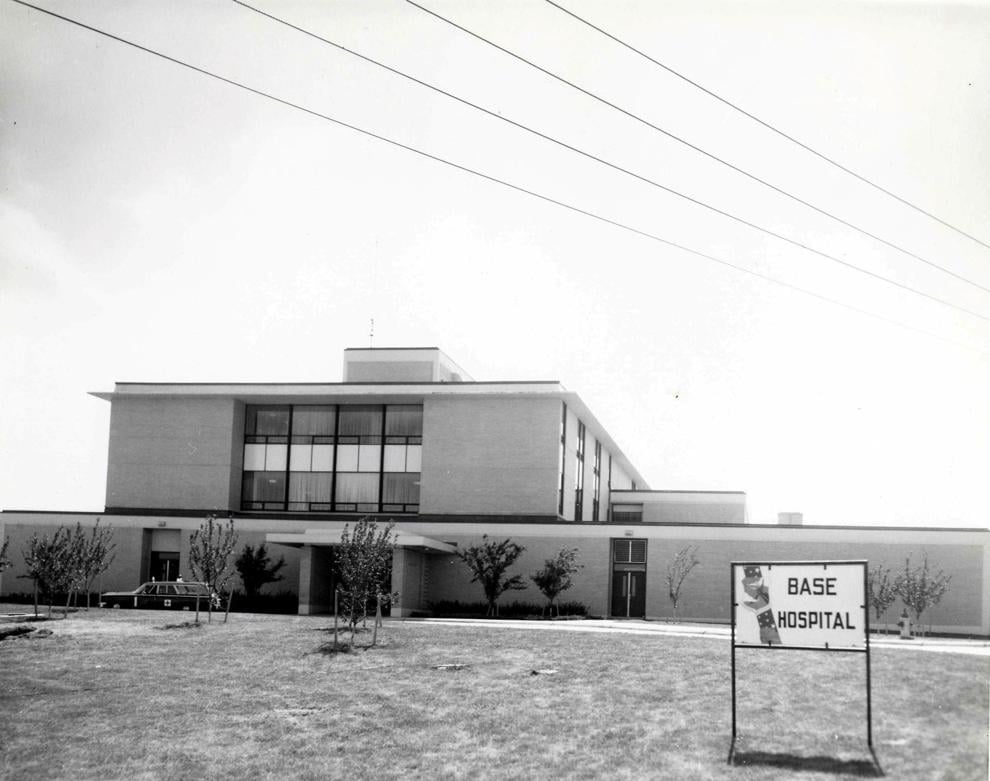 An early photograph of the Ehrling Bergquist military medical clinic in Bellevue. The clinic has served Offutt Air Force Base since 1966 and was remodeled in 2013, including a grand staircase, larger physical therapy and mental health areas, and a more private mammography waiting area.
US AIR FORCE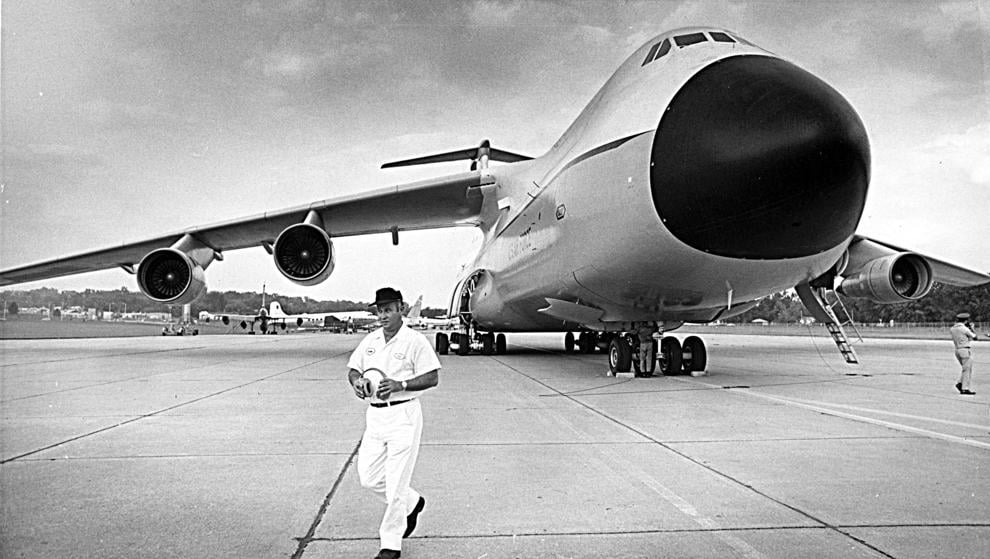 The world's largest aircraft at that time, the C5 Galaxy was displayed as part of the open house for civilian visitors at Offutt Air Force Base.
CHRIS YOUNG/OMAHA WORLD-HERALD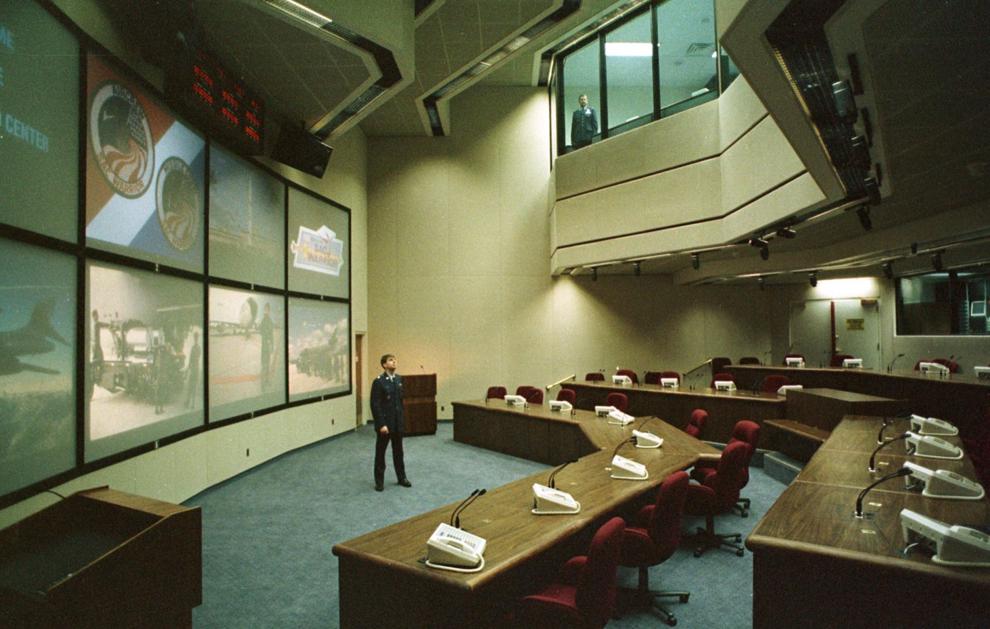 A conference room in the SAC underground command post at Offutt Air Force Base. Strategic Air Command would be formally disestablished in 1992, but Offutt would remain the headquarters for the new United States Strategic Command (USSTRATCOM).
JAMES R. BURNETT/OMAHA WORLD-HERALD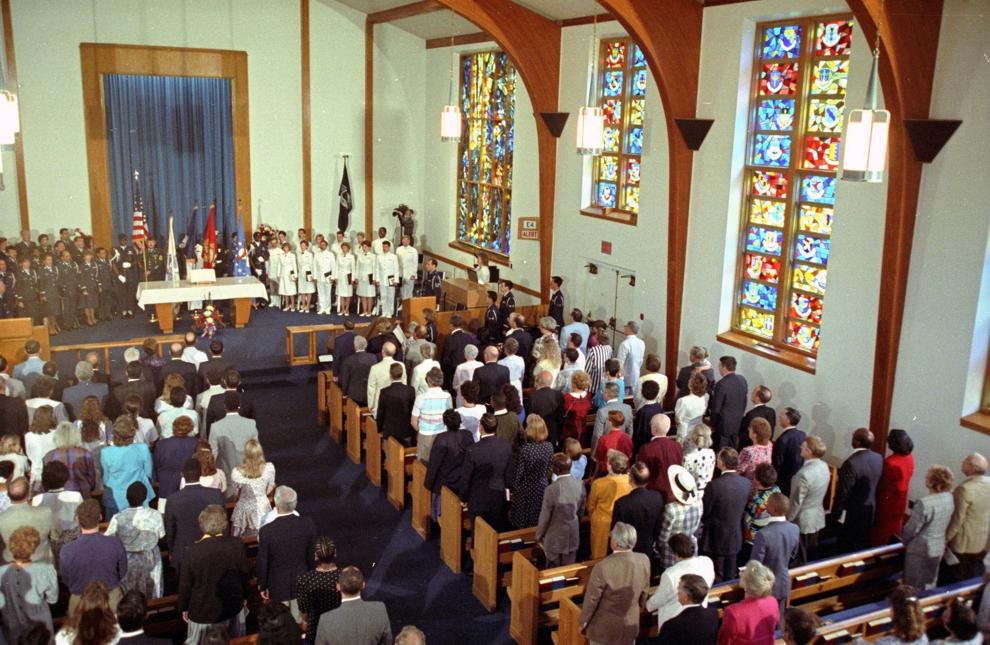 The Strategic Air Command Memorial Chapel holds a Sunday morning service as a reminder of those who have given their service and those who have died during the Command's 46-year history. Founded in 1946, the command was dissolved in a ceremony at Offutt Air Force Base.
RICH JANDA/OMAHA WORLD HERALD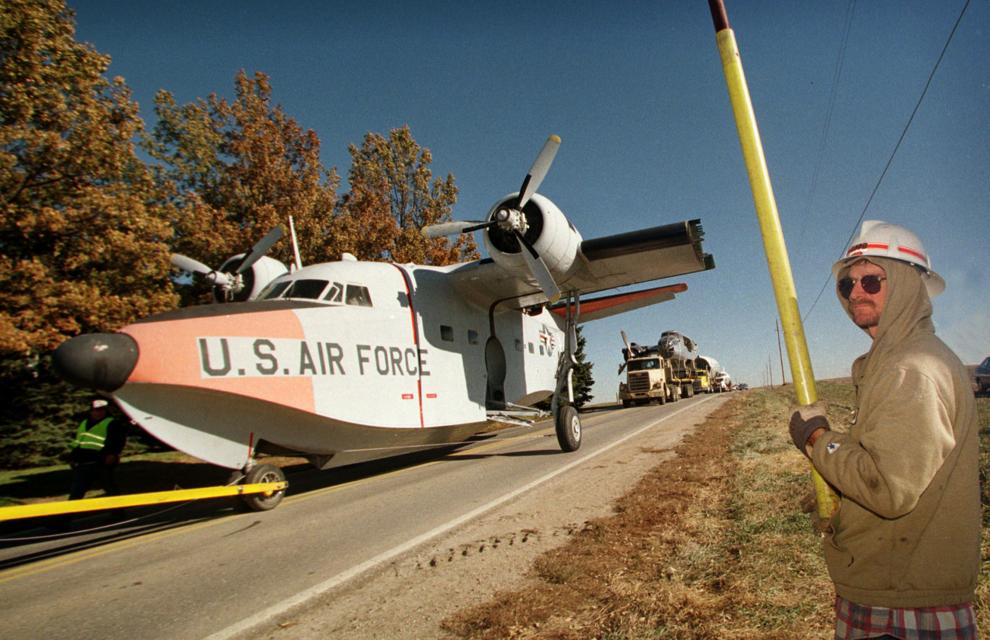 OPPD worker Craig Azure of Ashland holds a power line up across Platteview Road near Highway 50 so that an Albatross airplane can fit under it. After SAC was dissolved, the museum moved into a new indoor facility in 1998. Airplanes were moved from their old location at Offutt Air Force Base to their new and current home near Mahoney State Park off I-80.
PHIL JOHNSON/OMAHA WORLD-HERALD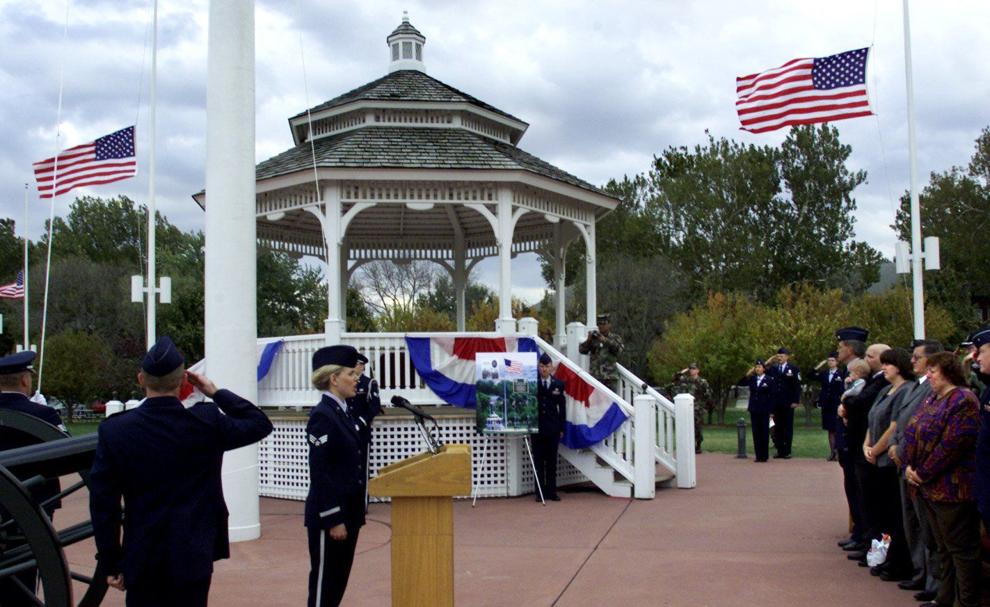 The parade grounds gazebo at Offutt is dedicated in honor of Airman 1st Class Warren T. Willis, who was killed in an aircraft accident the previous December.
BILL BATSON/OMAHA WORLD-HERALD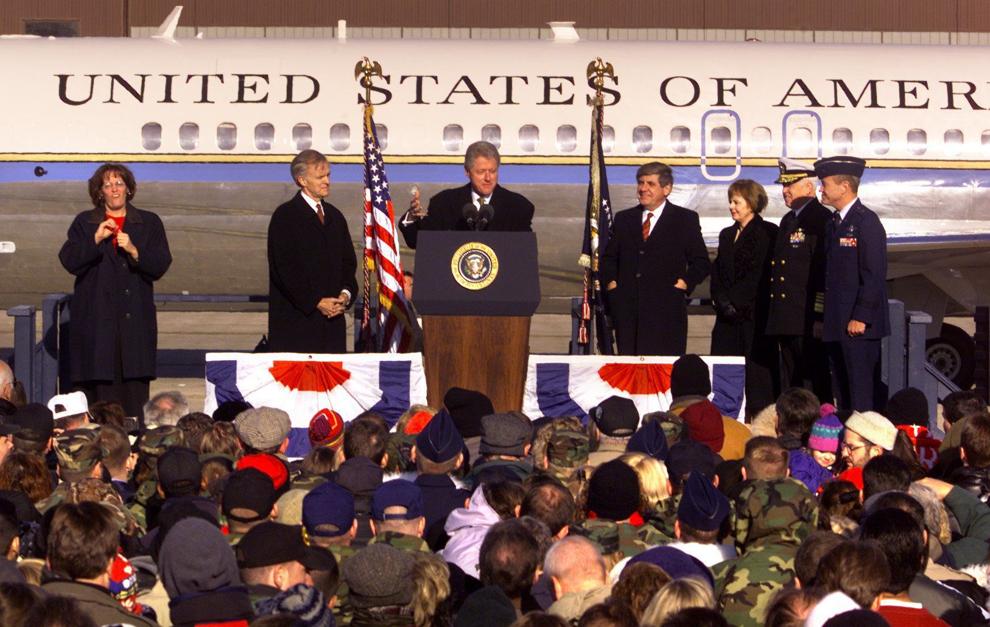 President Bill Clinton speaks at a rally at Offutt Air Force Base.
BILL BATSON/OMAHA WORLD-HERALD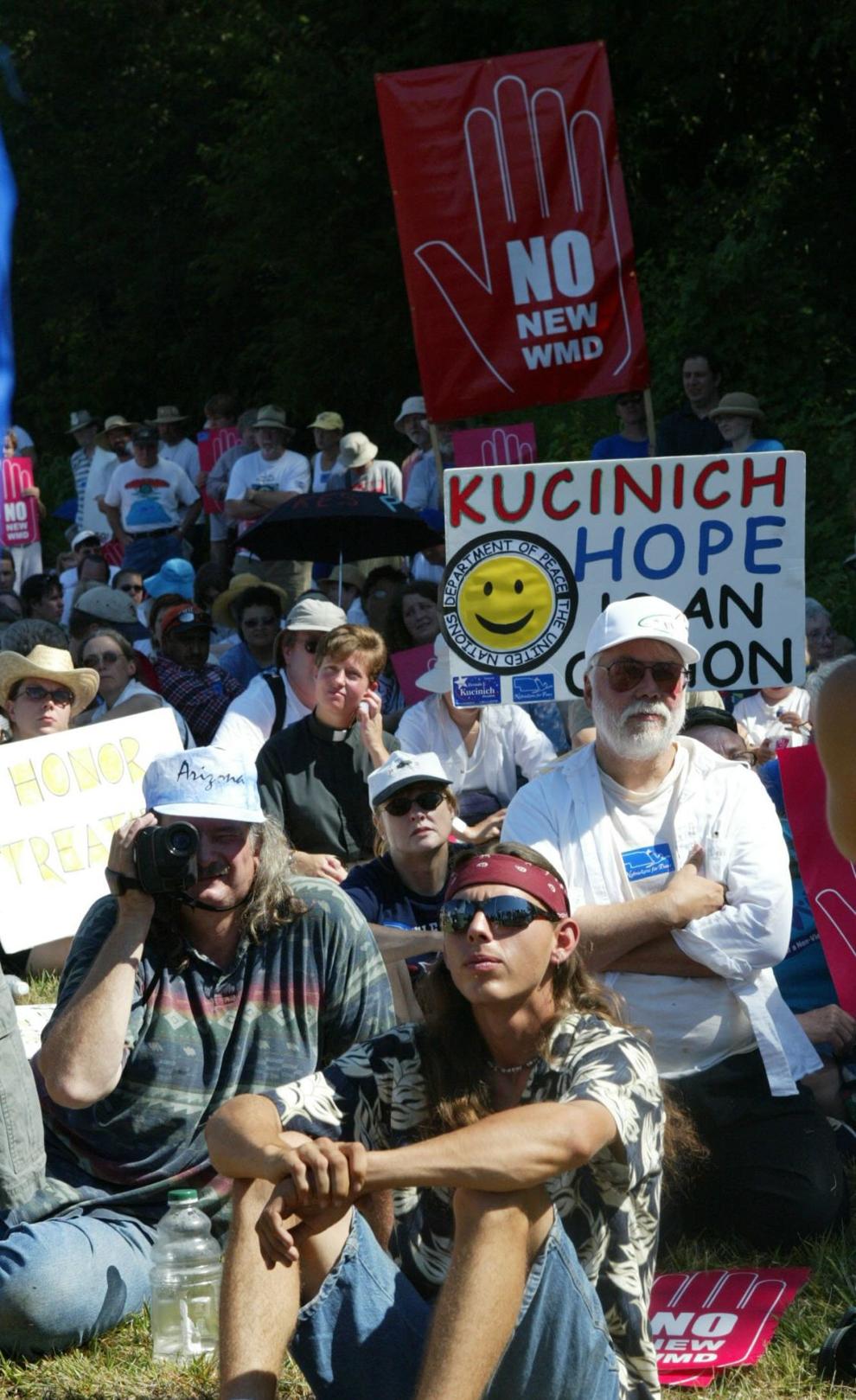 More than 300 anti-nuclear protesters gather outside Kinney Gate at Offutt Air Force Base. The rally was part of a weekend of protest against nuclear weapons, and was organized in response to an extensive nuclear arsenal review being held at the base.
RUDY SMITH/OMAHA WORLD-HERALD


Vice President Dick Cheney greets service men and women following a speech at Offutt Air Force Base's Minuteman missile in Bellevue.
LAURA INNS/OMAHA WORLD-HERALD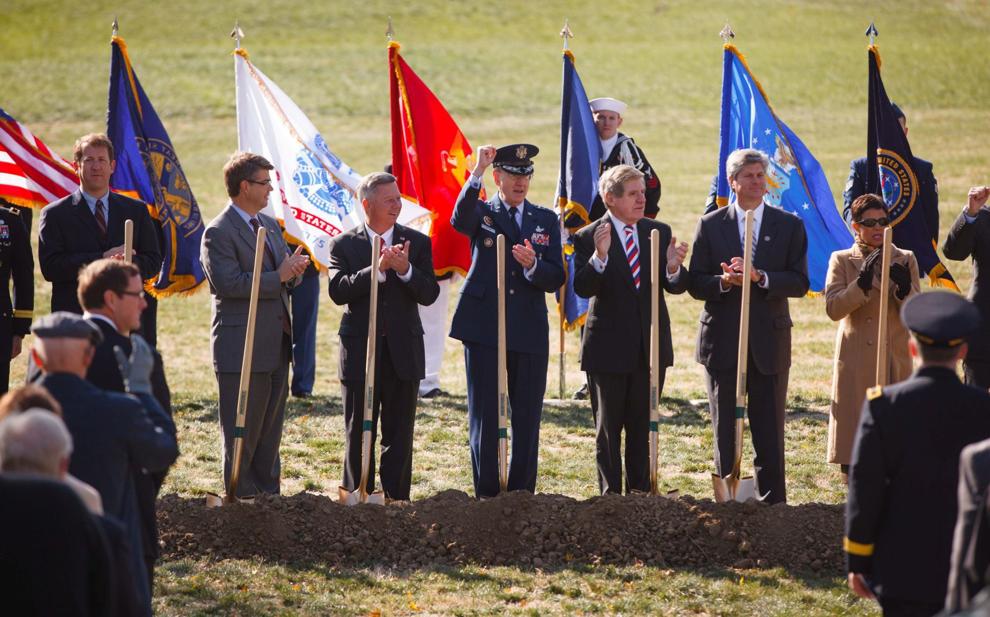 Dignitaries clap along to an armed forces medley as ground is broken for the new US Strategic Command Headquarters at Offutt Air Force Base. From left: Neb. Rep. Adrian Smith, Rep. Lee Terry, Neb. Governor Dave Heineman, Gen. C. Robert Kehler, Commander USStratcom, Sen. Ben Nelson, Rep. Jeff Fortenberry, and Mayor of Bellevue, Rita Sanders.
KENT SIEVERS/THE WORLD HERALD



Chris Shotton created this thank you message to the airmen and troops flying in and out of Offutt Air Force Base. Employees of area Walmart stores have been writing giant messages in fields near Highway 370 for years.
KENT SIEVERS/THE WORLD HERALD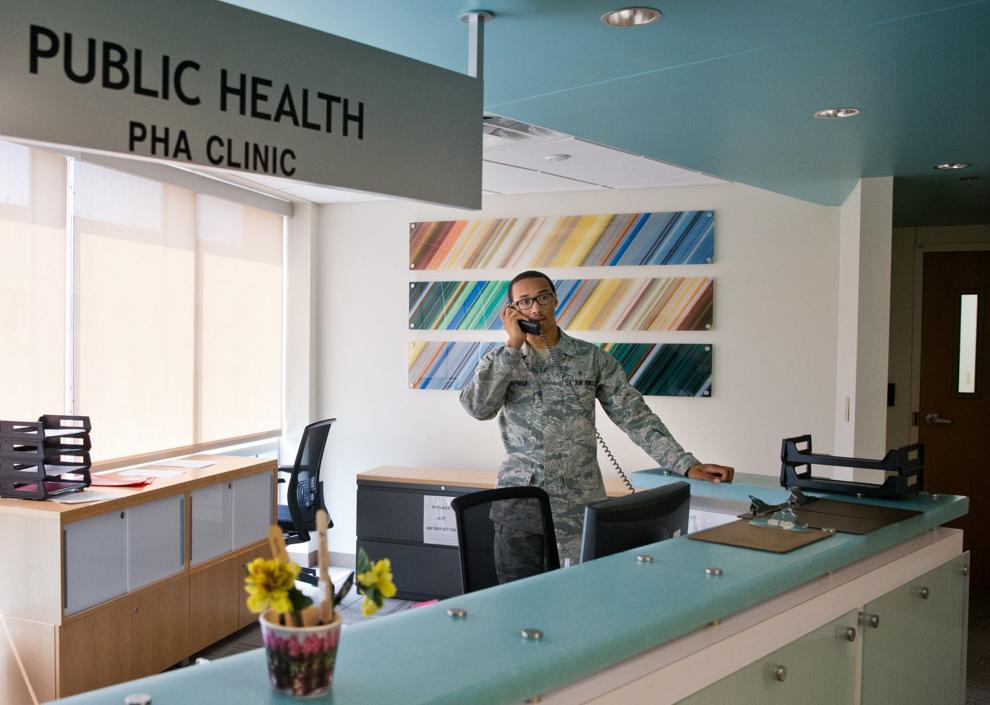 Senior Airman Kevin Chapman works the desk at the new Public Health Clinic located in the Ehrling Bergquist military medical clinic.
RYAN SODERLIN/THE WORLD HERALD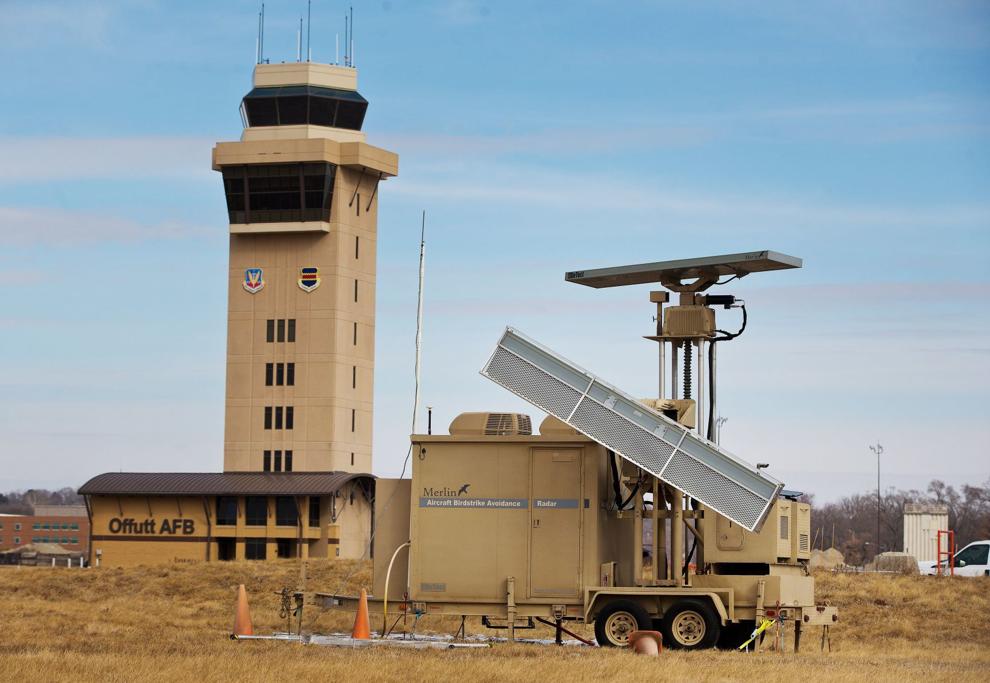 The new MERLIN SS200m Aircraft Birdstrike Avoidance Radar System, with the control tower in the background, photographed at Offutt Air Force Base. The system was moved here from Afghanistan in order to help detect large flocks and prevent damage to aircraft from bids, which cost the Air Force millions of dollars each year.
CHRIS MACHIAN/THE WORLD HERALD


An aerial photo from late February of the construction site for StratCom's new $1.2 billion headquarters at Offutt Air Force Base. Despite numerous delays and setbacks, the building would be completed in 2018, six years after construction began. StratCom would then spend the next year outfitting the structure with more than $600 million worth of high-tech communications and security gear.
U.S. STRATEGIC COMMAND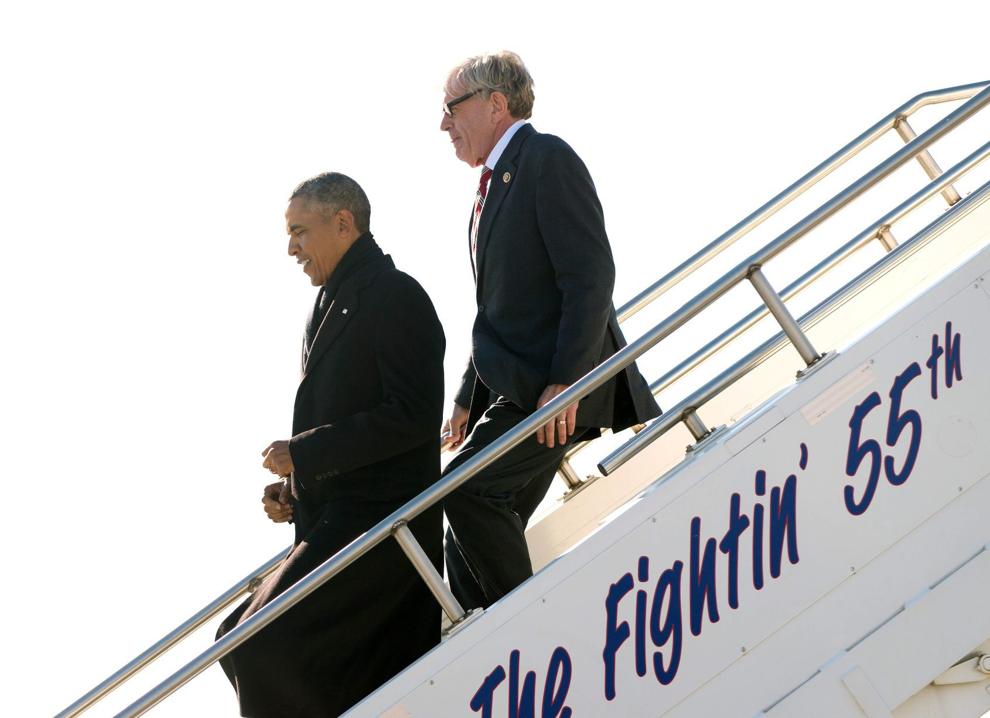 President Barack Obama arrives in Omaha after landing at Offutt Air Force Base. While in Omaha, Obama met with the family of Kerrie Orozco, visited a local teacher, and addressed a crowd of about 8,000 at Baxter Arena.
MATT MILLER/THE WORLD-HERALD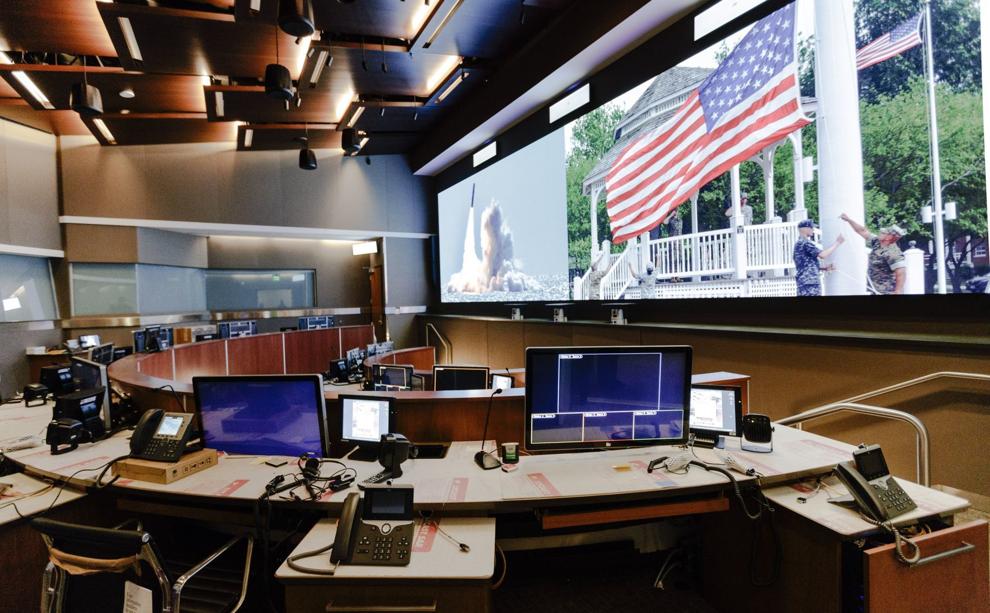 This year, US Strategic Command unveiled a new Command and Control Facility located at Offutt Air Force Base. The "battle deck," shown here, features computer workstations, soundproofing, and the ability to connect instantly to the White House and Pentagon.
RYAN SODERLIN/THE WORLD HERALD


Luke Thomas and Air Force Tech Sgt. Vanessa Vidaurre at a flooded portion of Offutt Air Force Base. In March, historic flooding included breaches of two levees protecting the base from the Missouri River.
Z LONG/OMAHA WORLD-HERALD